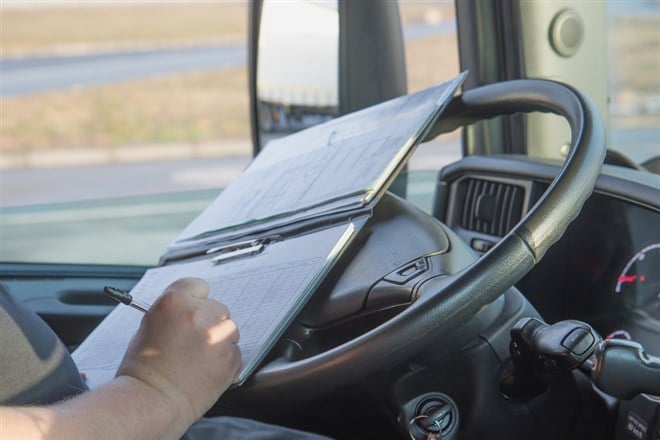 The health of the trucking industry can be a valuable barometer for overall economic conditions. The industry has been on a gradual upward trajectory since June regarding price performance, with S&P 500 component Old Dominion Freight Line Inc. (NASDAQ: ODFL) among the group's top performers. 
At $34.33 billion, Old Dominion is the largest company in its industry by market capitalization. It's also among the top price performers, advancing 19.28% in the past three months and 9.50% in January. Almost astonishingly, its one-year loss is only 0.16%, meaning it's well-positioned to capitalize on a continued industry- or market-wide uptrend.
But is there cause for concern?
Old Dominion's revenue has been growing at double-digit rates for the past seven quarters as the pandemic ignited the market for freight transportation. However, revenue growth declined from 33% to 15% in the past two quarters.
The same trend is occurring on the earnings side, where the company grew net income at double-digit rates for the past eight quarters. But net income, too, is slowing. In the past two quarters, earnings growth decelerated from 53% to 36%. That's still an excellent growth rate, but if customers put on the brakes, that's something to watch for. 
Industry-wide Slowdown?
It's also worth following the entire industry to be sure Old Dominion's slowdown is not company-specific. Other truckers are also seeing dramatic slowdowns. 
Wednesday, fellow S&P 500 component J.B. Hunt Transport Services, Inc. (NASDAQ: JBHT) reported $1.92 per share on revenue of $3.649 billion, missing top and bottom-line views, as MarketBeat earnings data show.
That was a year-over-year decline of 16% in earnings and revenue growth of just 4%, well below the double-digit pace in the past two years.
However, shares rallied as the company increased its dividend.
In the earnings call, company president Shelly Simpson sought to ease investor concerns about a lengthy downturn, saying, "We have had good signals from our customers about Q2 starting up back to a more normalized or having a more normal environment." 
There's no major index that tracks trucking in particular. However, the SPDR S&P Transportation ETF (NYSEARCA: XTN) includes J.B. Hunt, Old Dominion, and Landstar System, Inc (NASDAQ: LSTR), among other trucking and logistics companies. It also tracks airlines, railroads, bulk shippers, and freight forwarders. While it's not a "pure play" trucking index, it offers a glimpse into what manufacturers are shipping to various business customers. 
That index advanced 10.77% in the past three months and 9.41% in January. That doesn't look so bad, but is pessimism setting in? Before Friday's opening bell, the S&P transportation ETF was down 1.86% for the week. That still outpaced the broader index, which declined 2.47% as of Thursday's close.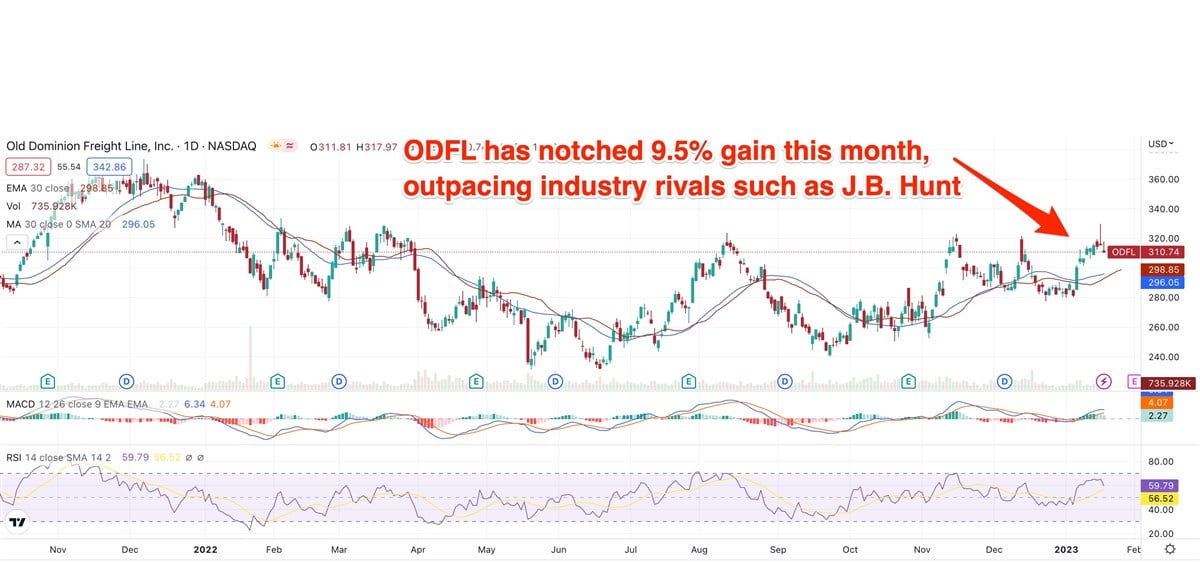 Is Trucking The Best Place To Park Money Right Now? 
So where does that leave Old Dominion? While it's among the better performers within the industry, passing J.B. Hunt in both earnings and price performance, there's still the question of whether the trucking industry is the best place to invest right now. It's a middle-of-the-pack industry whose price performance has worsened in the past three months. 
Overall, the industry may lag for the foreseeable future, as indicated by Avery Vise, an industry analyst and vice president of the trucking segment at FTR Transportation Intelligence. 
FTR publishes the Trucking Conditions Index, which tracks the changes in five significant conditions affecting the U.S. trucking market.
In a recent statement, Vise said, "The outlook for trucking conditions has changed little, and we still do not forecast any positive readings for the Trucking Conditions Index until late 2024. The recent deceleration in consumer inflation certainly is a positive development, but we do not anticipate it will lead to any meaningful increase in consumption."
He added that the industrial sector remains sluggish. However, he echoed J.B. Hunt's Simpson, saying, "Market conditions for carriers might outperform our current outlook starting late this year as capacity could prove tighter than reflected in our forecast, potentially leading to stronger rates."
In other words, Old Dominion, J.B. Hunt, and other carriers may be worth looking at, but perhaps not.