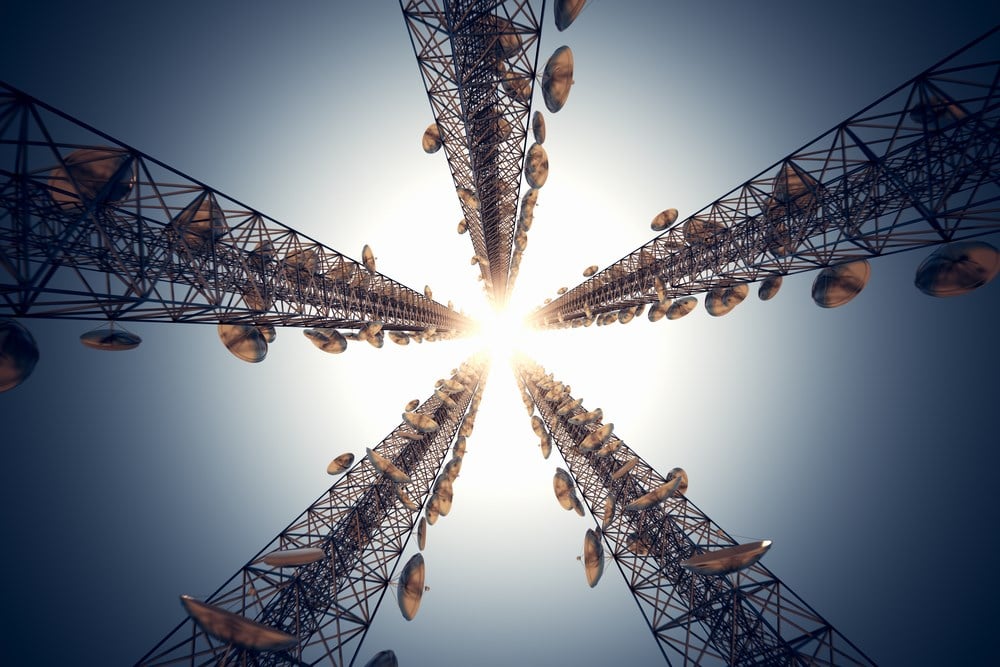 A seven-day slide has real estate investment trust (REIT) Crown Castle (NYSE: CCI) trading 50% below its January 2021 record peak. The stock's forward dividend yield has doubled to 6%. Is it time to storm the castle?
Not so fast.
Like other capital-intensive businesses, the communications infrastructure REIT continues to be pressured by higher interest rates — in a couple of ways. First, building or acquiring 40,000 cell towers requires heavy debt financing. After issuing $1.35 billion in long-term debt in the second quarter of this year, Crown Castle's debt burden has swelled to $21.6 billion. Taking on more debt in a rising rate environment is less than ideal. Second, with U.S. Treasury yields increasing, the company faces stiff competition from money market funds, bonds and other income investments.
Crown Castle is dealing with other challenges too. Top customer T-Mobile is expected to pull the plug on some of its tower and fiber leases over time as it consolidates its legacy Sprint network. With T-Mobile accounting for nearly 40% of revenue, this is bound to have a major impact on financial results in the next couple of years — and force the REIT to tap new revenue streams.
It's not all doom and gloom for the leading independent wireless tower operator. Some of its T-Mobile business is going away, but the longer-term benefit from global 4G and 5G deployment is not. With mobile data usage rising rapidly nationwide, wireless carriers are expected to invest tons of money on tower rentals this decade. Theoretically speaking, this should translate to steady cash flow for Crown Castle and reliable cash payouts for its shareholders. 
What Properties Does Crown Castle Invest In?
Unlike most REITs that invest in buildings, Crown Castle owns, manages and leases cell towers to a single tenant or multiple tenants. The company also owns structures known as small cells that can host smaller-scale radio equipment and antennas that transmit data to wireless devices. Streetlights, poles and building rooftops are examples. 
Although traditional cell towers account for roughly two-thirds of rental revenue, small cells and fiber solutions are becoming important growth catalysts. Crown Castle is on pace to have 125,000 small cell nodes supported by over 85,000 miles of fiber by year-end. The REIT also generates revenue from service agreements.
T-Mobile, AT&T and Verizon combined account for approximately three-fourths of total revenue. This is a strong tenant base that should attract smaller wireless players but also one that carries significant concentration risk. The anticipated loss of revenue from the T-Mobile/Sprint integration is the prime example — and a big part of why the stock has sold off over the last 18 months. 
Is Crown Castle's Dividend Stable?
Dependable dividend payments are typically the most important aspect of a REIT investment. Despite the fact that sales and profit growth are forecast to decline in 2023 and again in 2024, Crown Castle management has made dividends a priority. 
It's easy to prioritize dividends when they are backed by long-term contracts with the country's top wireless carriers whose services are mission-critical for consumers, businesses and government organizations alike. The REIT has increased its dividend for eight consecutive years, with the most recent hike to $1.565 per share (quarterly) occurring in October 2022. Management projects 7% to 8% annual dividend growth going forward. Given the weakening financial picture, this shows dividend commitment — but at a cost.
Based on forward earnings projections for the current fiscal year, Crown Castle will pay out nearly 200% of its earnings as dividends. In other words, the company will have to dip into cash in other places to maintain its current dividend. That happens when cash flow growth lags dividend growth. It's a risk the company is willing to take though in hopes of better times ahead. 
Should investors take that same risk?
To put it mildly, Crown Castle's current dividend payout is unsustainable. The REIT may be able to get away with paying out more than it earns in the short run but will eventually hit a crossroads. In the best-case scenario, the blow from the T-Mobile loss is milder than expected or offset by new business — and the dividend is maintained if not raised. Worst case, things go south and the dividend gets cut or even wiped out. 
For now, the risk is somewhere in between but skewed toward the worst case. If long-term growth tied to the 5G buildout wins out, risk-taking investors will have collected some nice cash handouts. If not, the communication between Crown Castle and its shareholders will get very choppy.