Riot Platforms (RIOT) is closely tied to the crypto market, with the movement of Bitcoin as one of the main drivers impacting its stock price. While RIOT had a great run this year, it seems primed for bouts of volatility amid the regulatory crackdowns. Let's look at some of RIOT's metrics to understand if it is worth buying now...
Bitcoin mining company Riot Platforms, Inc.'s (RIOT) shares have skyrocketed, with cryptocurrency gaining mainstream attention and investors flock for exposure. However, RIOT is prone to bouts of volatility due to its correlation with the highly risky assets.
RIOT has been on a mining spree, delivering strong monthly results this year. It produced 639 bitcoins in April, an increase of 25.8% year-over-year, despite a competitive bitcoin mining environment.
While the company reached record highs for miner deployment, total hash rate capacity, and monthly bitcoin production in the first quarter of 2023, its revenue experienced a dip caused by lower bitcoin prices. Moreover, RIOT flipped to a net loss of $55.70 million, or $0.33 per share, compared to net income of $36.6 million, or $0.31 per share, in the year-ago period.
In addition, increasing scrutiny from U.S. regulators on the digital currency industry continues to be a significant headwind for the company.
The stock is expected to remain volatile, as in the crypto economy, "we're going to see much larger swings in price both ways since so many large market makers have significantly reduced providing," said David Wells, CEO of Enclave Markets.
As reported by Bloomberg earlier this month, Jane Street and Jump Crypto, two of the biggest crypto market makers, would pull back from crypto trading in the U.S. as regulators continue their crackdown on the industry. The triple whammy of blockchain congestion issues, liquidity constraints caused by the prominent market makers' stepping back, and regulatory challenges will likely keep the industry under pressure in the near term.
To explore further, we'll dive into the metrics that illustrate the company's challenges and the associated volatility of this burgeoning market.
Examining the Performance of RIOT: Net Income, Gross Margin, ROIC, and Analyst Price Target
RIOT's net income has been fluctuating over the past two years. Net income has decreased significantly from negative $20.10 million on June 30, 2020, to negative $61.44 million on March 31, 2023.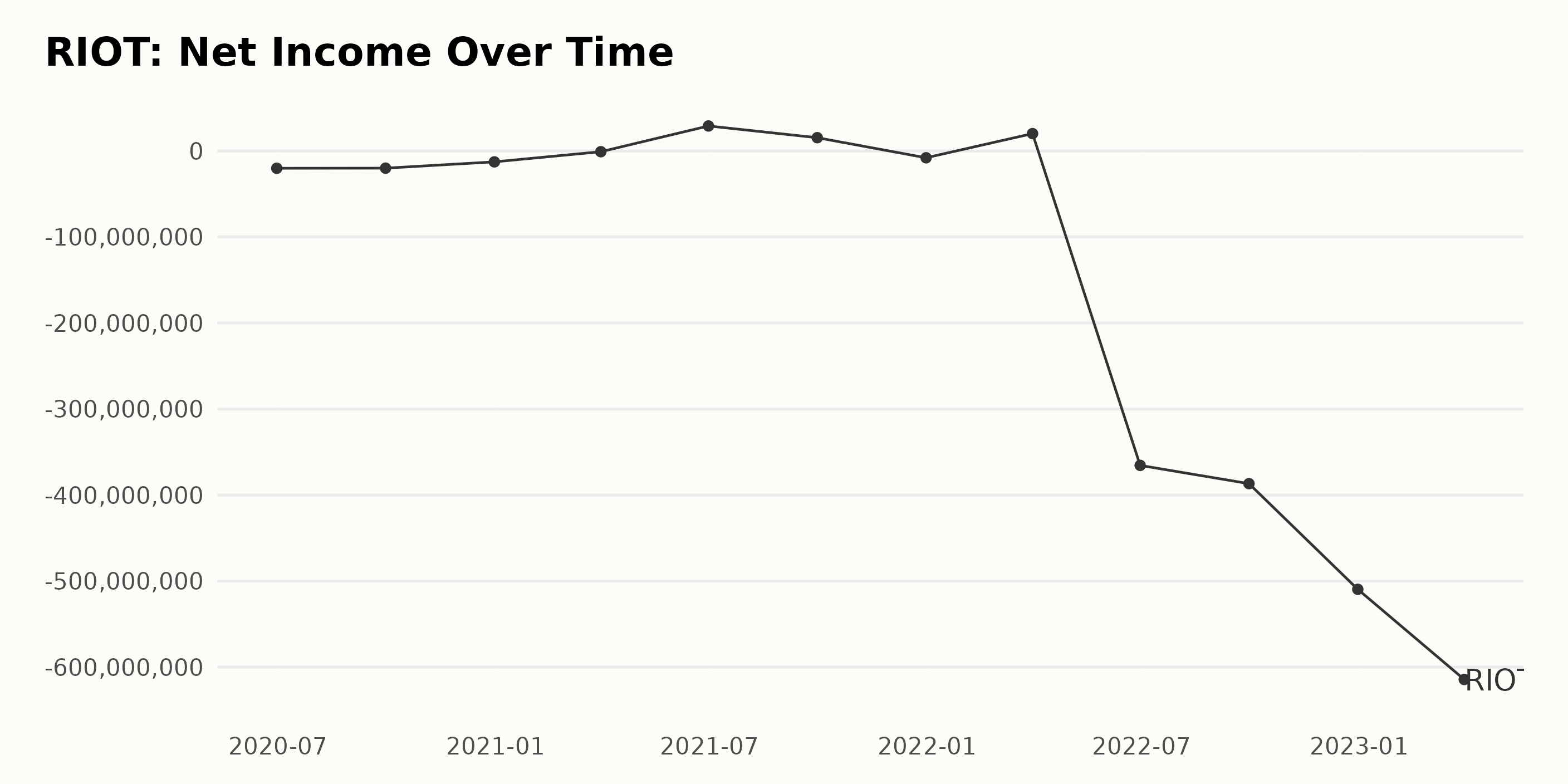 RIOT's revenue has experienced significant fluctuations, increasing from $7.27 million on June 30, 2020, to $25.26 million on March 31, 2023. There is a 337% growth rate between the first and last value in the series. The highest revenue was seen on December 31, 2021, at $213.24 million, with the most recent quarter decreasing from the previous quarter to $25.26 million on March 31, 2023.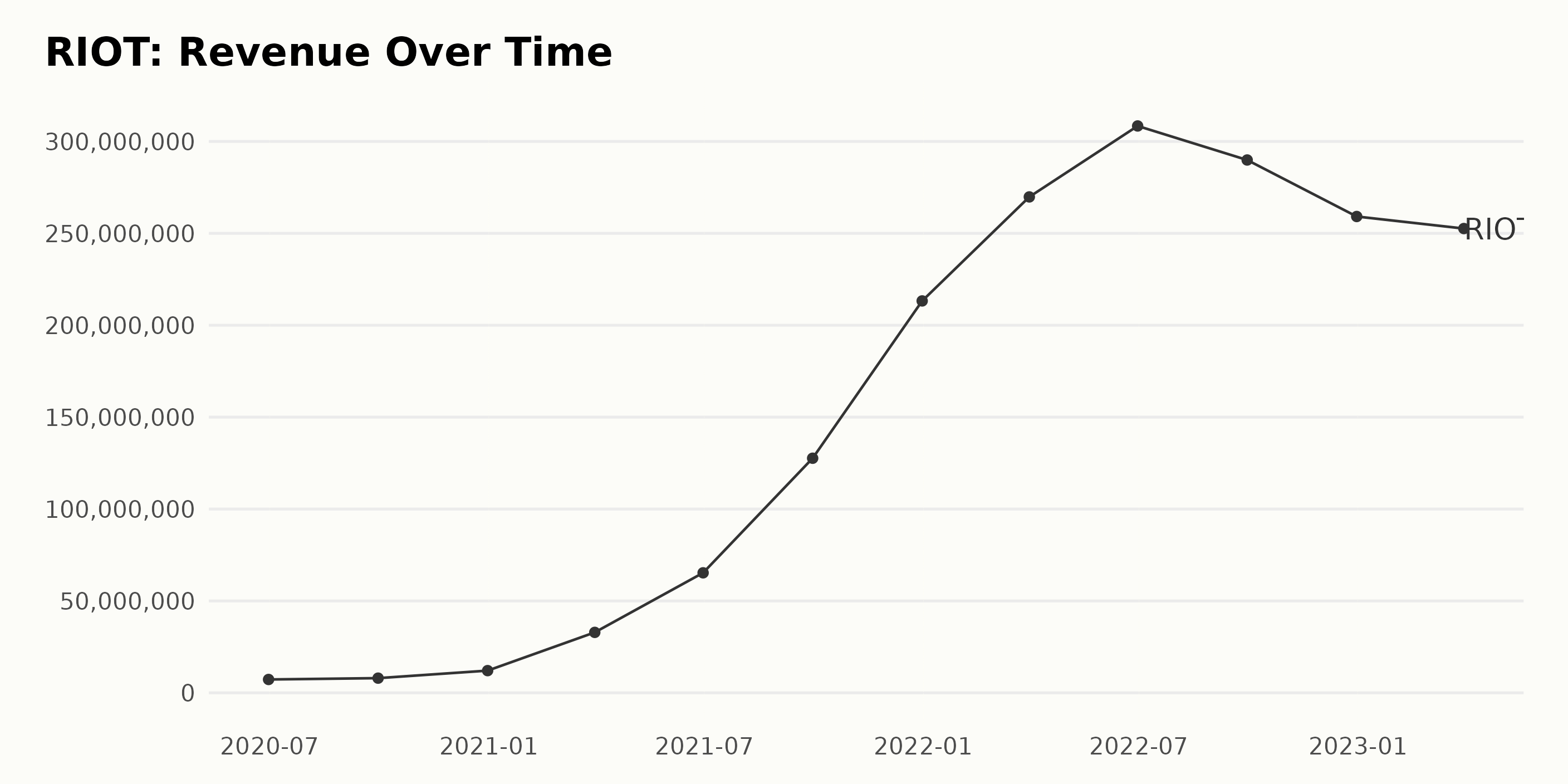 RIOT's gross margin increased steadily from June 2020 to December 2021, from 19% to 62.4%. There was a slight decline to 63.2% in June 2021, followed by gradual fluctuations that decreased to 47.4% in December 2022. The most recent data point revealed a gross margin of 40.7% in March 2023. This is a 17.7% drop since the beginning of the series.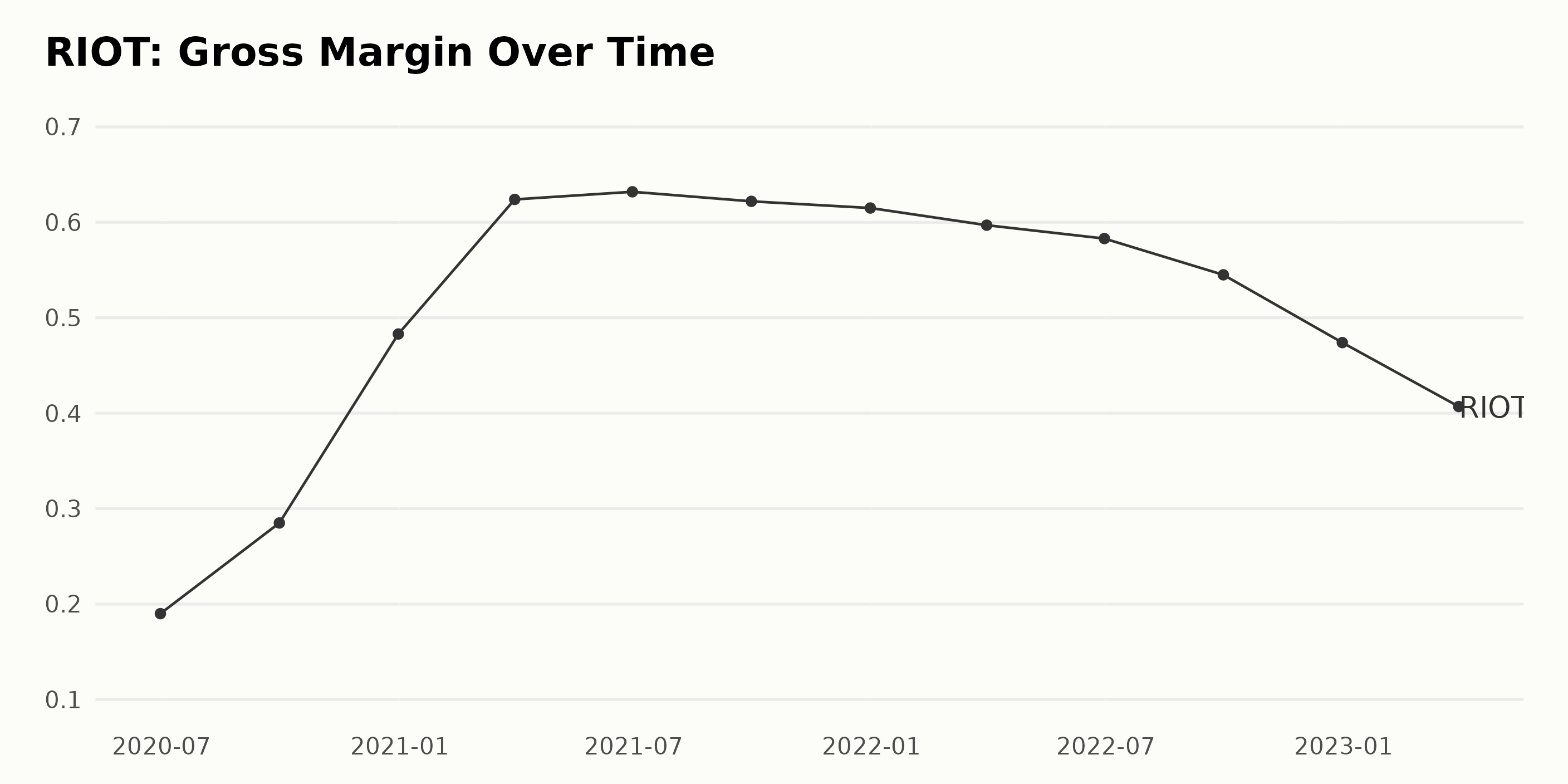 The company's Return on invested capital (ROIC) has seen some significant fluctuations over the past few years. From June 2020 to March 2023, these fluctuations have resulted in a negative growth rate of -5.78% for this data series.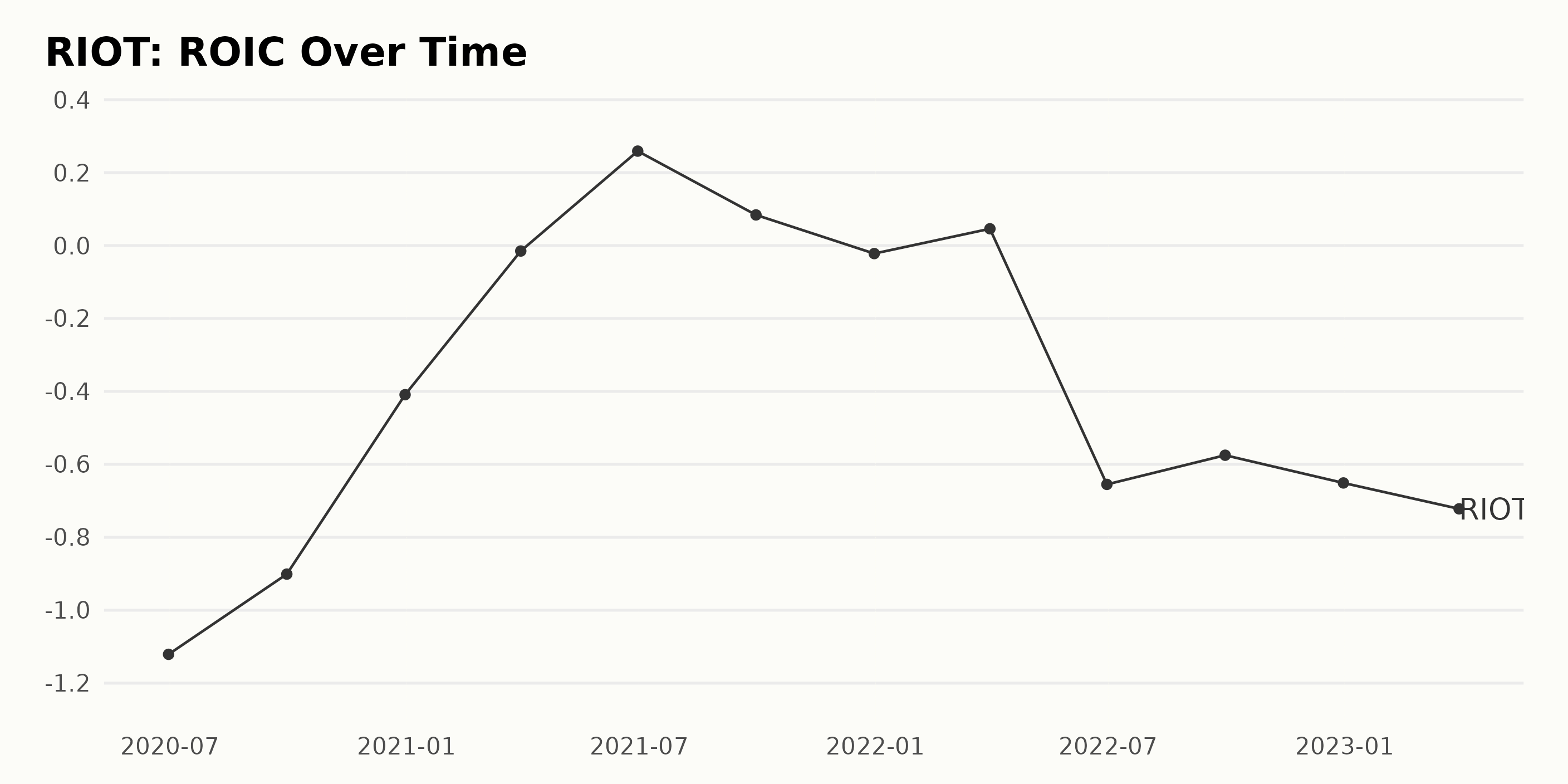 RIOT's Return on Assets (ROA) has seen a general downward trend from June 2020 to March 2023. There have been fluctuations over this time period, with the ROA reaching a low of negative 0.354 in December 2022. The most recent value for ROA is negative 0.45. from March 2023.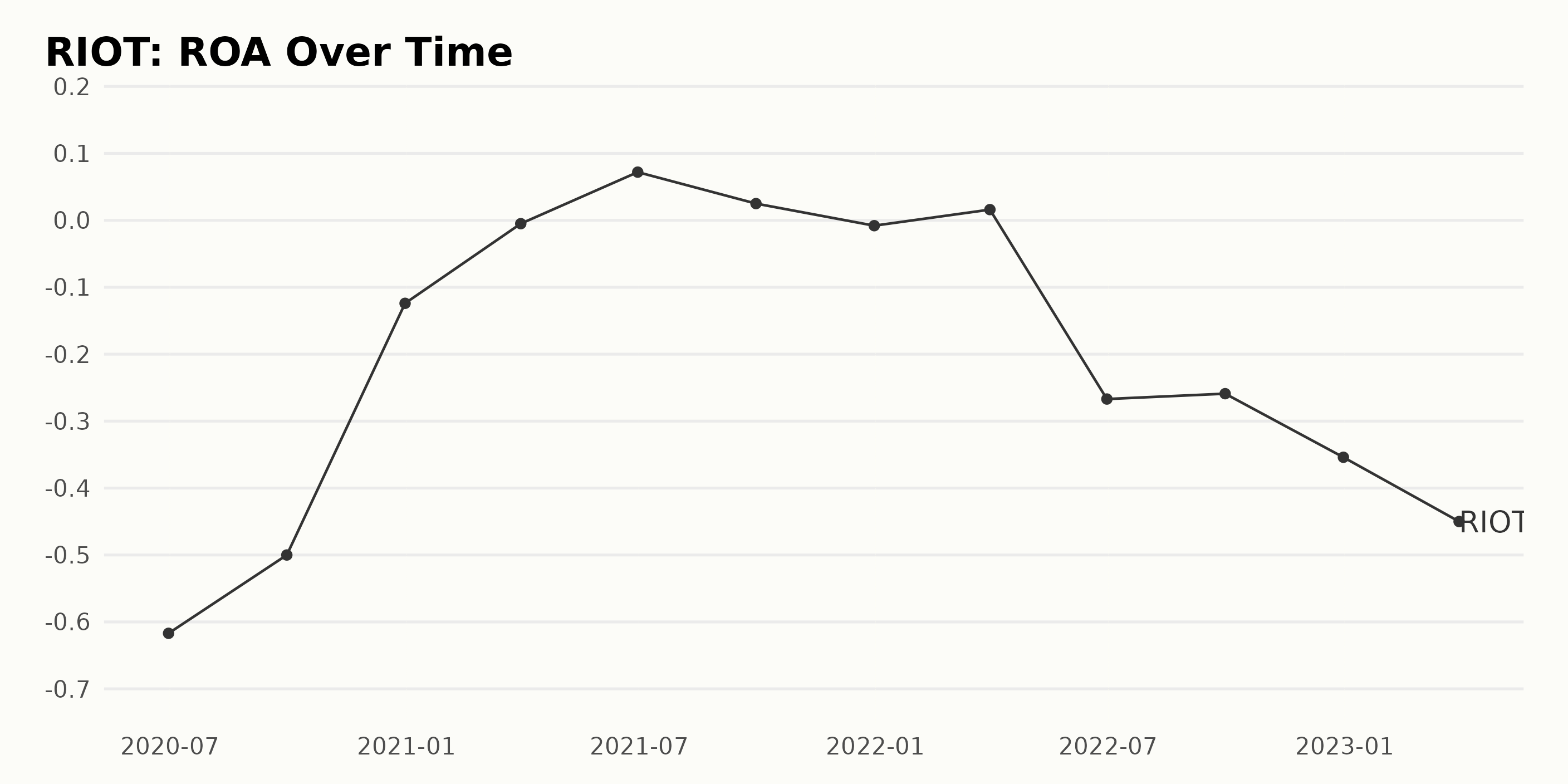 RIOT Share Price Increased Over 180 Days
There is a growing trend in RIOT's share price, beginning at around $4.47 on December 2, 2022, and reaching its highest value at $12.20 on April 21, 2023, before subsequently stabilizing around $11.07 on May 25, 2023. The growth rate accelerated between February 17 - March 24, 2023, when the stock price increased from $6.16 to $8.83. Here is a chart of RIOT's price over the past 180 days.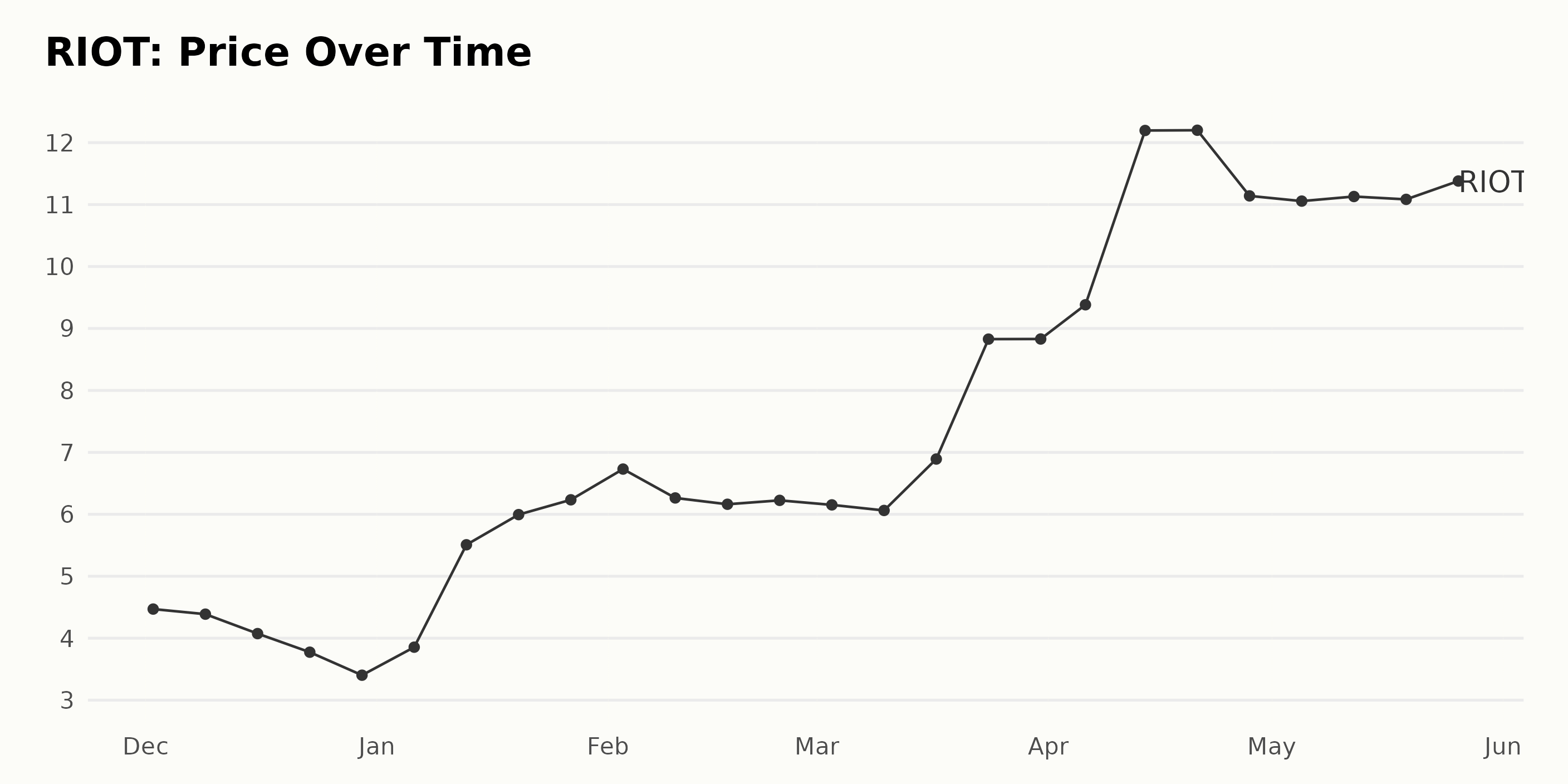 Unfavorable POWR Ratings
RIOT has an overall F rating, translating to a Strong Sell in our POWR Ratings system.
It is ranked #81 out of the 82 in the Technology - Services category, indicating a poor performance compared to the other stocks in this category.
It also has an F grade for Value, Stability, and Quality and a D for Sentiment.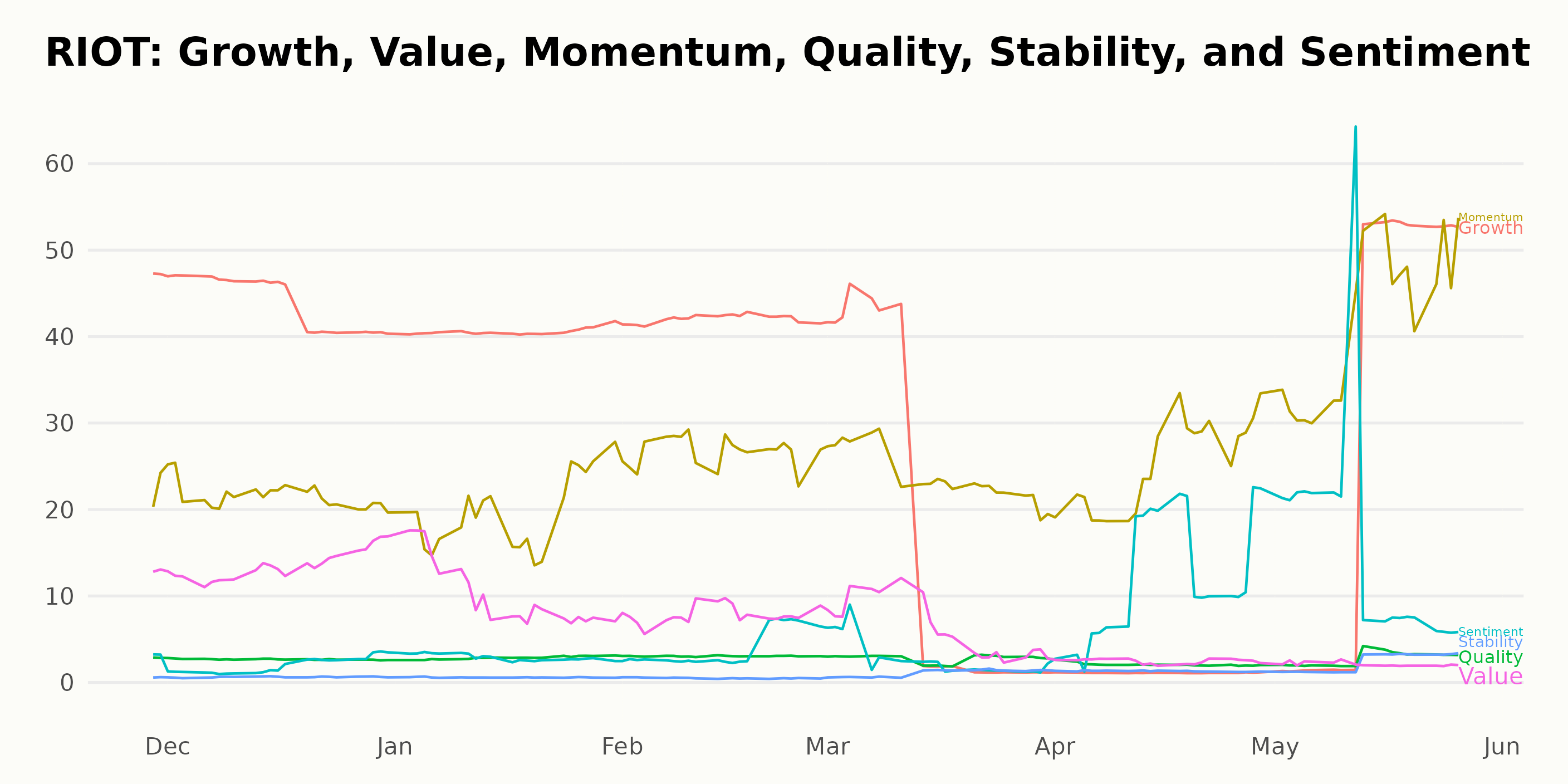 Stocks to Consider Instead of Riot Platforms, Inc. (RIOT)
Other stocks in the Technology - Services sector that may be worth considering are Celestica, Inc. (CLS), NetScout Systems Inc. (NTCT), and Teradata Corporation (TDC) -- they have better POWR Ratings.
The Bear Market is NOT Over…
That is why you need to discover this timely presentation with a trading plan and top picks from 40 year investment veteran Steve Reitmeister:
REVISED: 2023 Stock Market Outlook > 
---
RIOT shares were trading at $10.89 per share on Friday afternoon, down $0.18 (-1.63%). Year-to-date, RIOT has gained 221.24%, versus a 10.17% rise in the benchmark S&P 500 index during the same period.
---
About the Author: Subhasree Kar
Subhasree's keen interest in financial instruments led her to pursue a career as an investment analyst. After earning a Master's degree in Economics, she gained knowledge of equity research and portfolio management at Finlatics.
Should You Buy Riot Platforms (RIOT) This Week?
appeared first on
StockNews.com