Video conferencing company Zoom Video (ZM) benefited from the demand for services supporting remote work and study amid the pandemic. Let's analyze the trends of some of ZM's financial metrics to understand if the stock is still worth buying...
The COVID-19 pandemic led to the adoption of remote work and study, increasing the demand for technology and services supporting the new trend. Video conferencing company Zoom Video Communications, Inc. (ZM) largely benefitted from the trend.
From increased customer adoption rates to strategic partnerships, ZM positioned itself as an industry leader in video communications. While the return to physical work and study spaces post-pandemic caused a massive revenue decline for most work-from-home beneficiaries, ZM has been showing some rebound lately. The company delivered better-than-expected results in its last reported quarter.
ZM also raised its full-year sales forecast and intends to continue investing in innovations such as AI. Revenue for the fiscal year is expected to be between $4.47 billion to $4.49 billion.
As demand for collaboration solutions continues to rise, ZM stands ready to deliver accessible, secure solutions to its growing customer base and continue growing in a post-pandemic world.
Let's dig into some of ZM's key metrics to understand why it could be wise to invest in the stock now.
ZM's Revenue, Gross Margin, and Current Ratio Growth
There has been a steady increase in ZM's revenue from $1.35 billion (July 2020) to $4.40 billion (January 2023). The growth rate is 224%, with revenue at $4.40 billion (January 2023) being approximately 18% higher than the revenue of $3.73 billion (July 2021). In addition, while there were some fluctuations throughout the data series, ZM experienced an overall positive trend in revenue growth. Total revenue for its most recent quarter was $1.11 billion, up 3% year over year.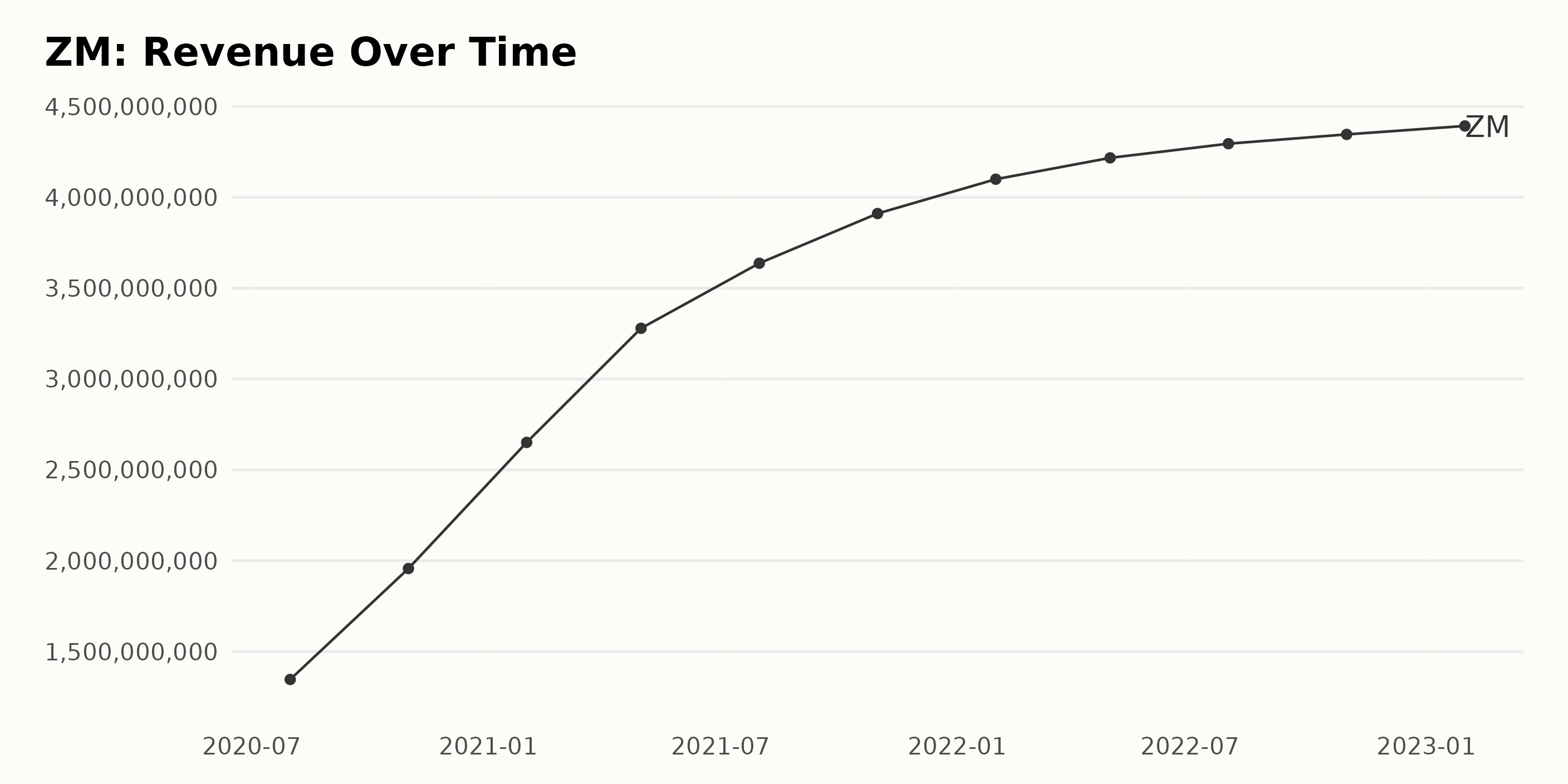 ZM's gross margin has seen a general upward trend from 73.3% in July 2020 to 75.5% as of October 2022, with some fluctuations along the way. Its gross margin was 74.9% in January 2023, which is 0.6% lower than its high point in October 2022 and 4.6% higher than in July 2020.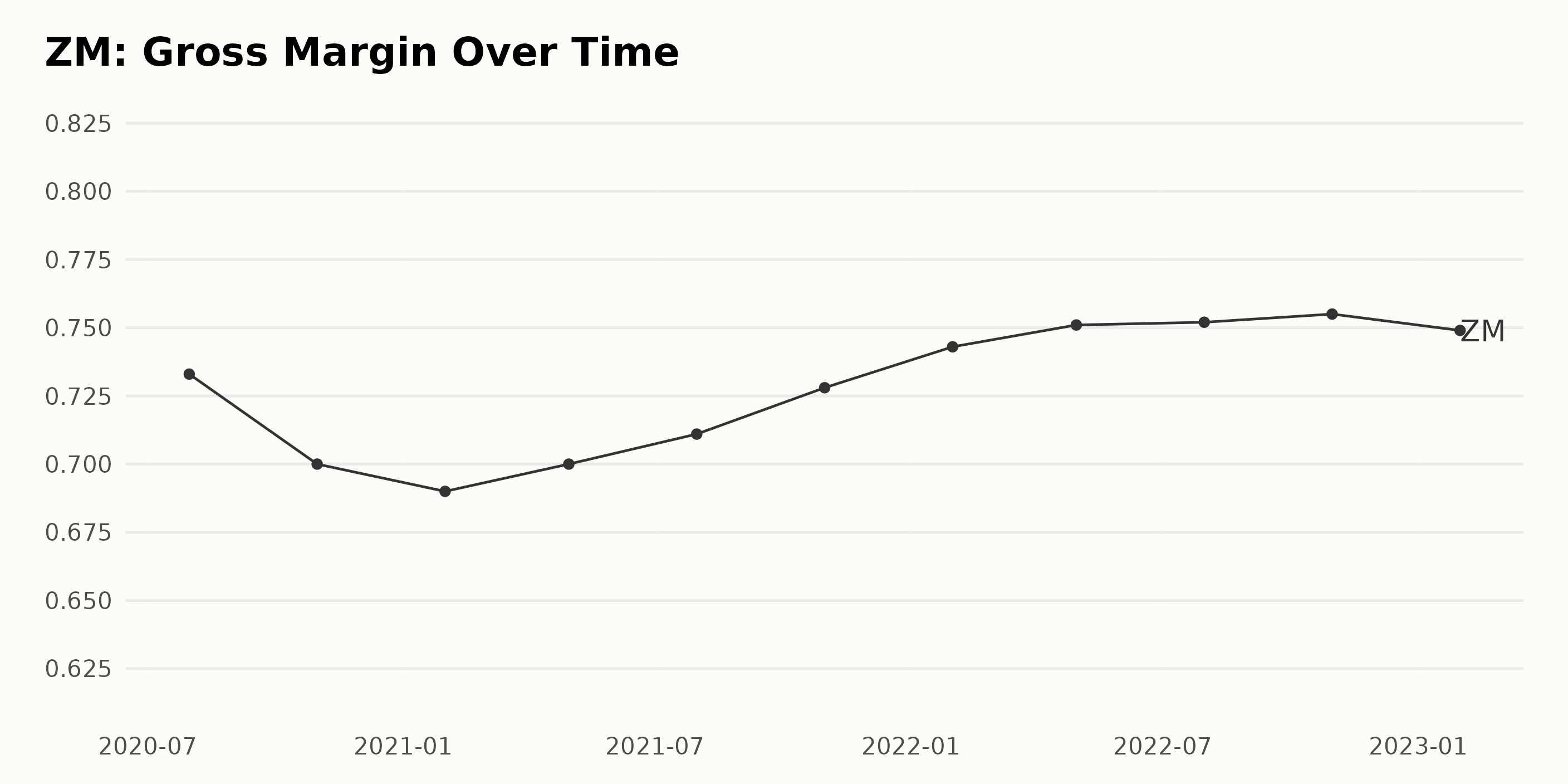 ZM's current ratio has generally seen an upward trend. Its gross margin was 3.656 as of January 2023, higher than the initial value of 1.734 in July 2020. There have been fluctuations in the trend, with two significant dips in January 2021 and January 2022.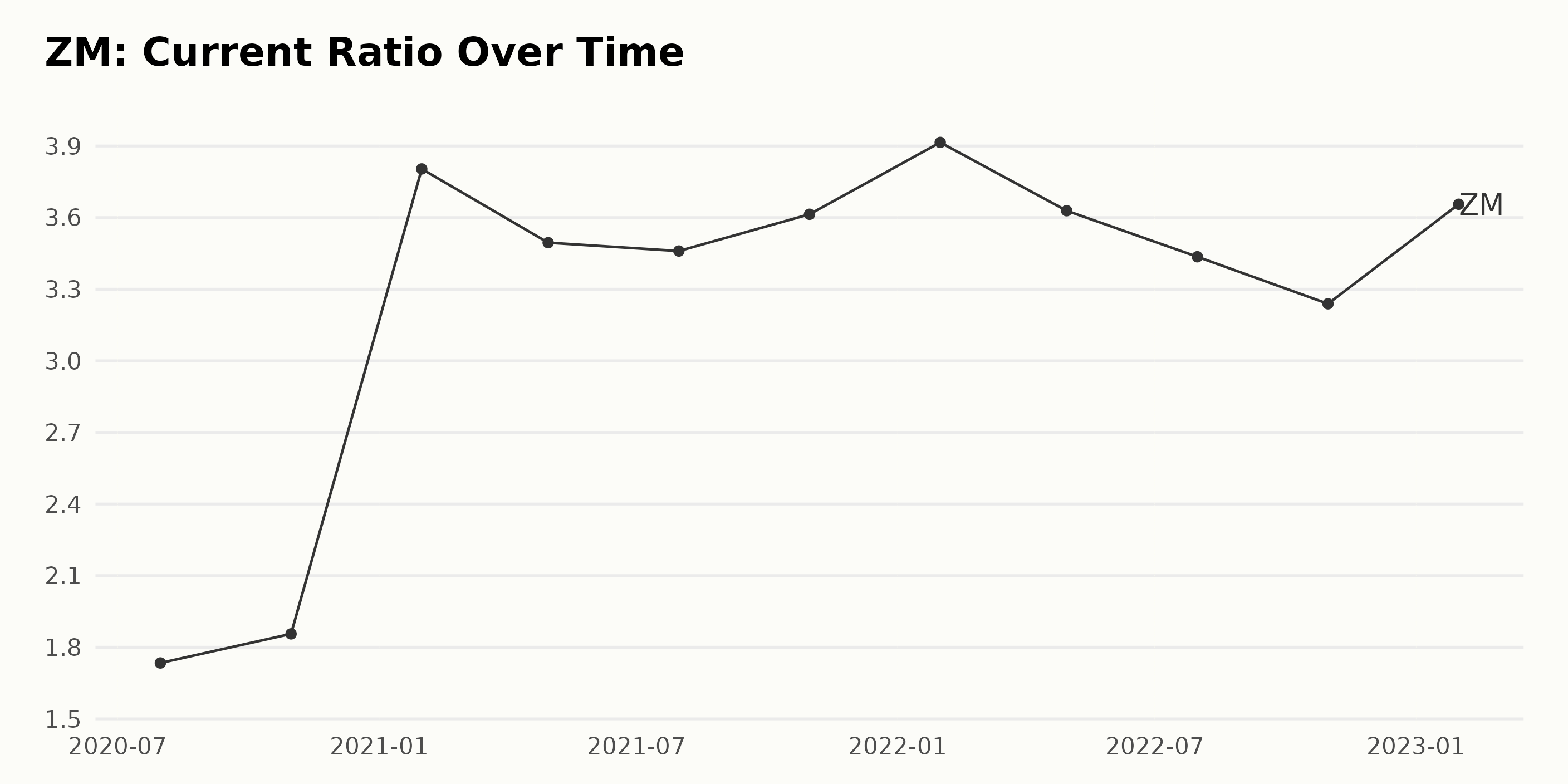 ZM's Share Price Shows Rebound
ZM's share price trend has generally decreased from November 25, 2022 ($75.64) to May 12, 2023 ($63.79). However, there may have been some recent short-term growth starting around May 19, 2023 ($67.37), where the share price increased to $71.79 on May 22, 2023. Here is a chart of ZM's price over the past 180 days.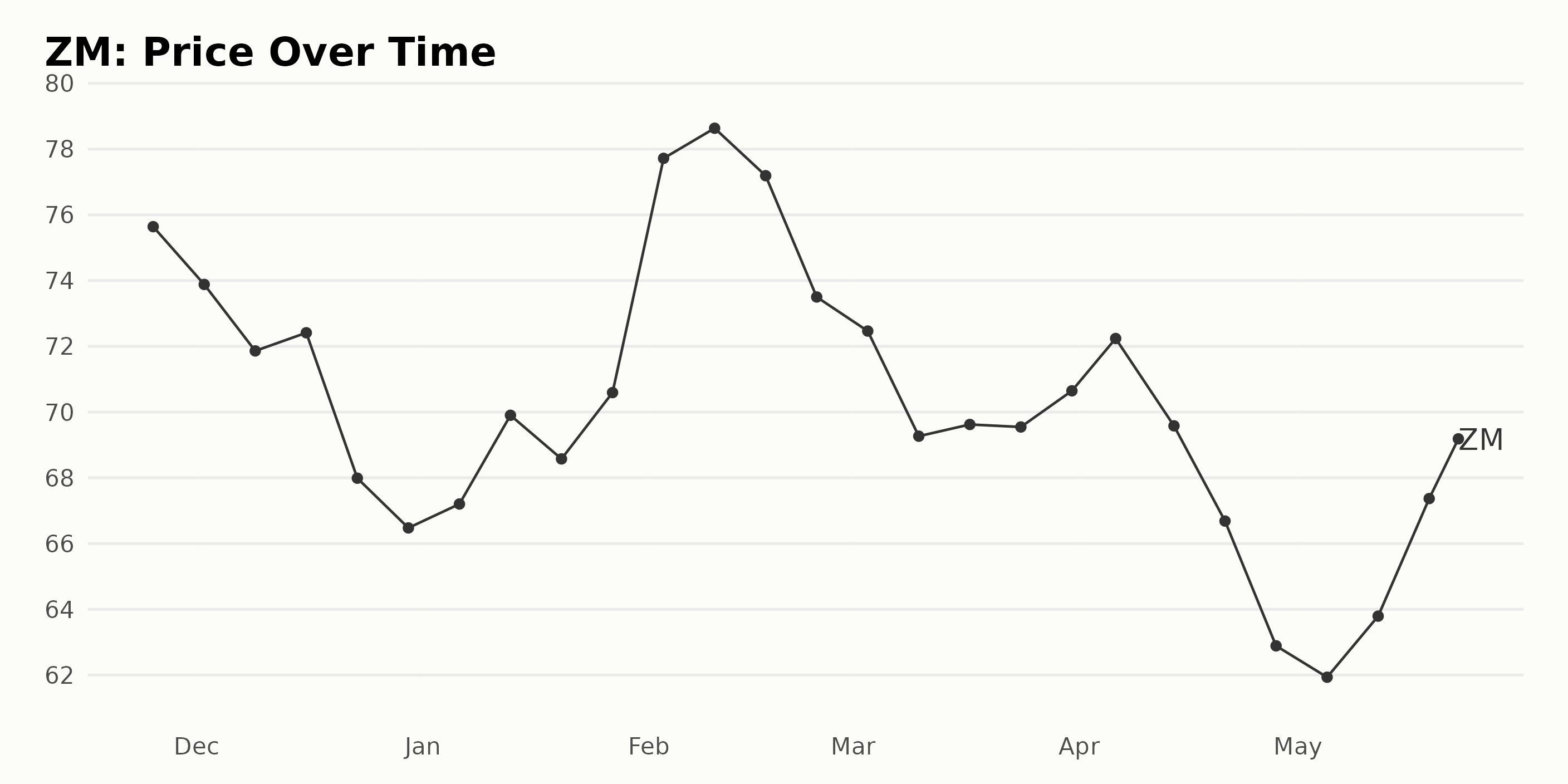 Zoom Video Communications: Quality, Momentum, Growth & Value Ratings
ZM has an overall B rating, equating to a Buy in our POWR Ratings system. POWR Rating has been consistently a B since March 25, 2023. It is ranked #23 out of the 81 stocks in its Technology - Services category.
The POWR Ratings for ZM indicate that Quality is the highest-rated dimension, with a consistent rating of 93. Momentum and Growth are the other two dimensions that show clear trends, with Momentum ratings increasing steadily over time and Growth rising significantly in March 2023 before declining in April and May. The ratings for Value also increase consistently over time, starting at 79 in November 2022 and ending at 84 in May 2023.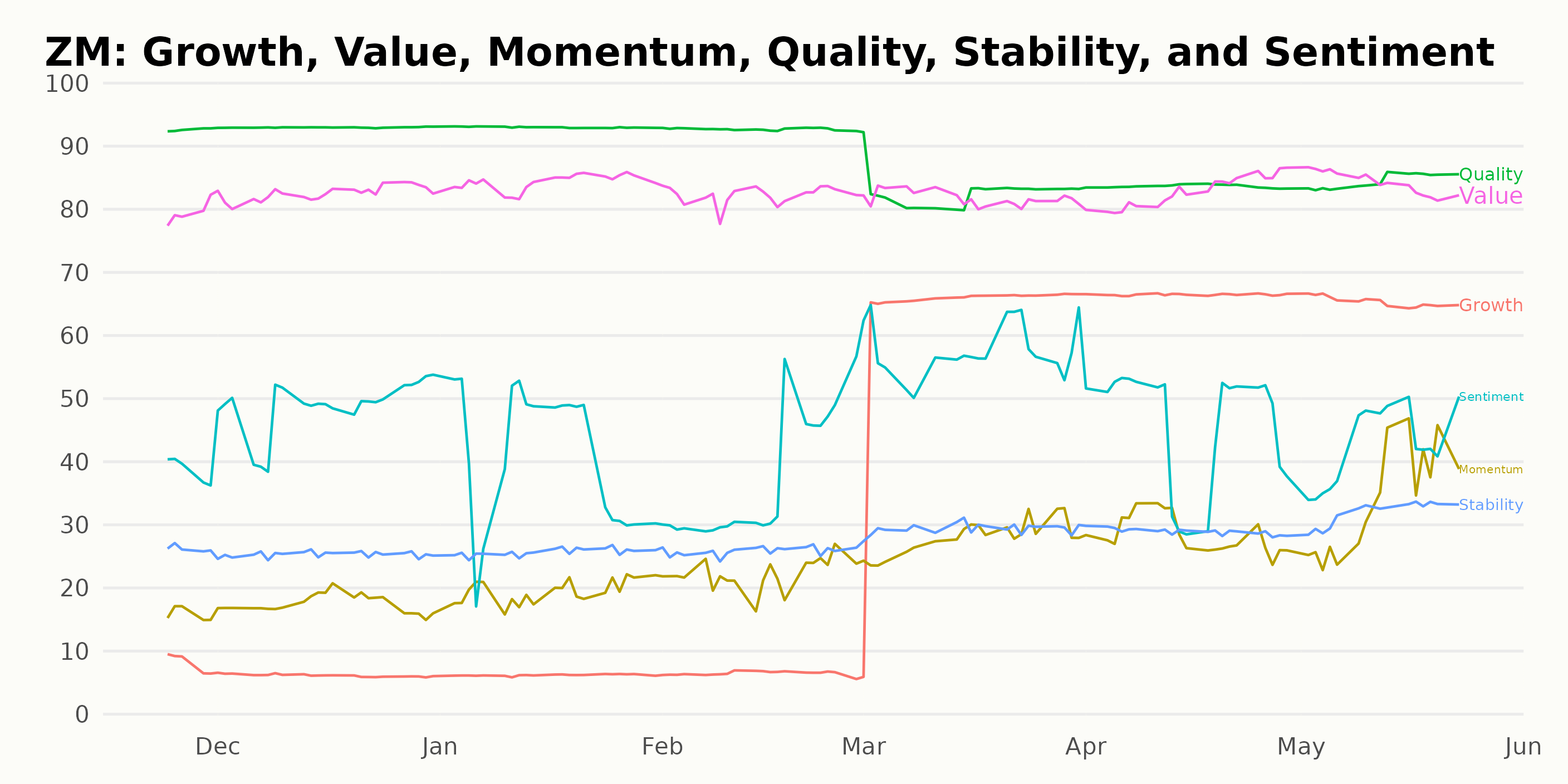 How Does Zoom Video Communications, Inc. (ZM) Stack Up Against its Peers?
Other stocks in the Technology - Services sector that may be worth considering are NetScout Systems Inc. (NTCT), Teradata Corporation (TDC), and Box Inc. (BOX) -- they have better POWR Ratings.
The Bear Market is NOT Over…
That is why you need to discover this timely presentation with a trading plan and top picks from 40 year investment veteran Steve Reitmeister:
REVISED: 2023 Stock Market Outlook > 
---
ZM shares were trading at $65.63 per share on Tuesday afternoon, down $5.78 (-8.09%). Year-to-date, ZM has declined -3.11%, versus a 8.70% rise in the benchmark S&P 500 index during the same period.
---
About the Author: Subhasree Kar
Subhasree's keen interest in financial instruments led her to pursue a career as an investment analyst. After earning a Master's degree in Economics, she gained knowledge of equity research and portfolio management at Finlatics.
Zoom Video Communications (ZM): Buy, Sell, or Hold?
appeared first on
StockNews.com