Are Gold Prices Headed for a Roller Coaster Ride This Week?
November 02, 2020 at 12:04 PM EST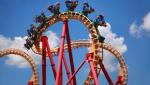 Gold investors need to ensure their safety belts are buckled tight this week, especially since the forthcoming election could give them a stomach-churning roller coaster ride of volatility. Other key movers for gold will only add to the dips and dives. "The first week of November will not...