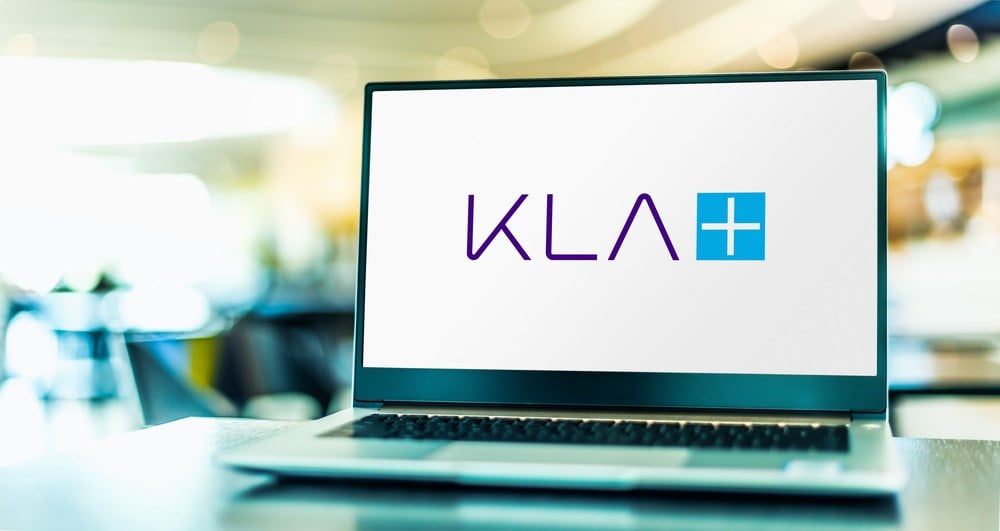 Chip gear maker KLA Corp. (NASDAQ: KLAC), has been moving in tandem with juggernaut Nvidia Corp. (NASDAQ: NVDA).
Just about all chipmakers and chip designers, with the notable exception of the currently downtrodden Intel Corp. (NASDAQ: INTC), have been riding Nvidia's coattails to at least some extent. 
However, chip equipment makers, which constitute their own sub-industry, were up more than 21% in the past month. That's nearly as much as the fabless chip industry, led by Nvidia. 
KLA is one of those unknown S&P 500 components, although with a market capitalization of $62.89 billion, is in the top 10% when it comes to index weighting. 
Chip equipment makers design, manufacture, and sell the machinery used to produce semiconductors. The equipment itself is extremely intricate and advanced, and often proprietary. 
Large-Cap Industry Leaders
KLA's industry peers include Netherlands-based mega-cap ASML Holding N.V. (NASDAQ: ASML), along with fellow S&P 500 components Applied Materials Inc. (NASDAQ: AMAT) and Lam Research Corp. (NASDAQ: LRCX). 
As a whole chip equipment makers began trending higher at the beginning of 2023. But until May, those larger companies were essentially treading water, while smaller names like mid-cap Axcelis Technologies Inc. (NASDAQ: ACLS) helped give the industry a boost. 
When evaluating these companies, it's important to maintain the distinction between various sub-industries within the semiconductor business, although all are related and frequently move in the same direction.  
KLA was forming a cup-shaped base between late January and late May, below resistance at $429.46. It cleared that buy point in heavy trading volume on May 25, the same day Nvidia gapped up after its stunning earnings report and guidance for the current quarter. 
KLA Dividend Yield May Be Attractive
Among the large-cap chip gear makers, KLA and ASML have shown the best earnings growth in recent months. On a one-month and three-month basis, KLA's price appreciation has been higher, but both stocks boast strong recent increases. The KLA dividend yield of 1.13% may be an attractive feature to many investors, versus the ASML dividend yield of 0.87%. 
KLA and ASML are in different areas of chip-gear making. 
KLA primarily specializes in equipment that enables the detection and measurement of defects and deviations in semiconductor wafers during the manufacturing process. Its products help ensure the quality and integrity of semiconductor chips. 
On the other hand, ASML is a leading manufacturer of lithography systems, which are critical for the fabrication of integrated circuits. ASML's focus lies in developing advanced tools for the precise patterning of intricate circuitry onto silicon wafers. 
Providing A Needed Service
Both are the dominant players within their segments of the industry, and both provide much-needed services as demand for chips ramps up due to applications including AI, electrification of vehicles, 5G, and the Internet of Things. 
At the end of fiscal 2022, KLAC's largest customers were Taiwan Semiconductor Manufacturing Company Limited (NYSE: TSM) and Samsung Electronics Co. Limited (OTCMKTS: SSNLF). 
In case you were wondering how chip equipment makers factor into the current AI mania, look no further than KLA's eSL10, which inspects for defects in wafers. 
The eSL10 equipment uses advanced optical inspection technology to identify defects and ensure the quality and reliability of AI chips. It allows chip manufacturers to detect any potential defects that could impact chip performance. 
Accelerating EV And Autonomous Technologies
When it comes to the booming automotive business, KLA on May 16 announced that it was part of a consortium establishing the Semiconductor Talent and Automotive Research (STAR) initiative, "focusing on developing the talent base and infrastructure necessary to accelerate advanced semiconductor applications for electrification and autonomous mobility and move the automotive industry forward." 
The group, which also includes Ford Motor Company (NYSE: F) is opening a research center in Michigan. 
KLA analyst ratings show a consensus view of "hold" on the stock. There have been no analyst actions on the stock since the company reported its fiscal third quarter, on April 26.