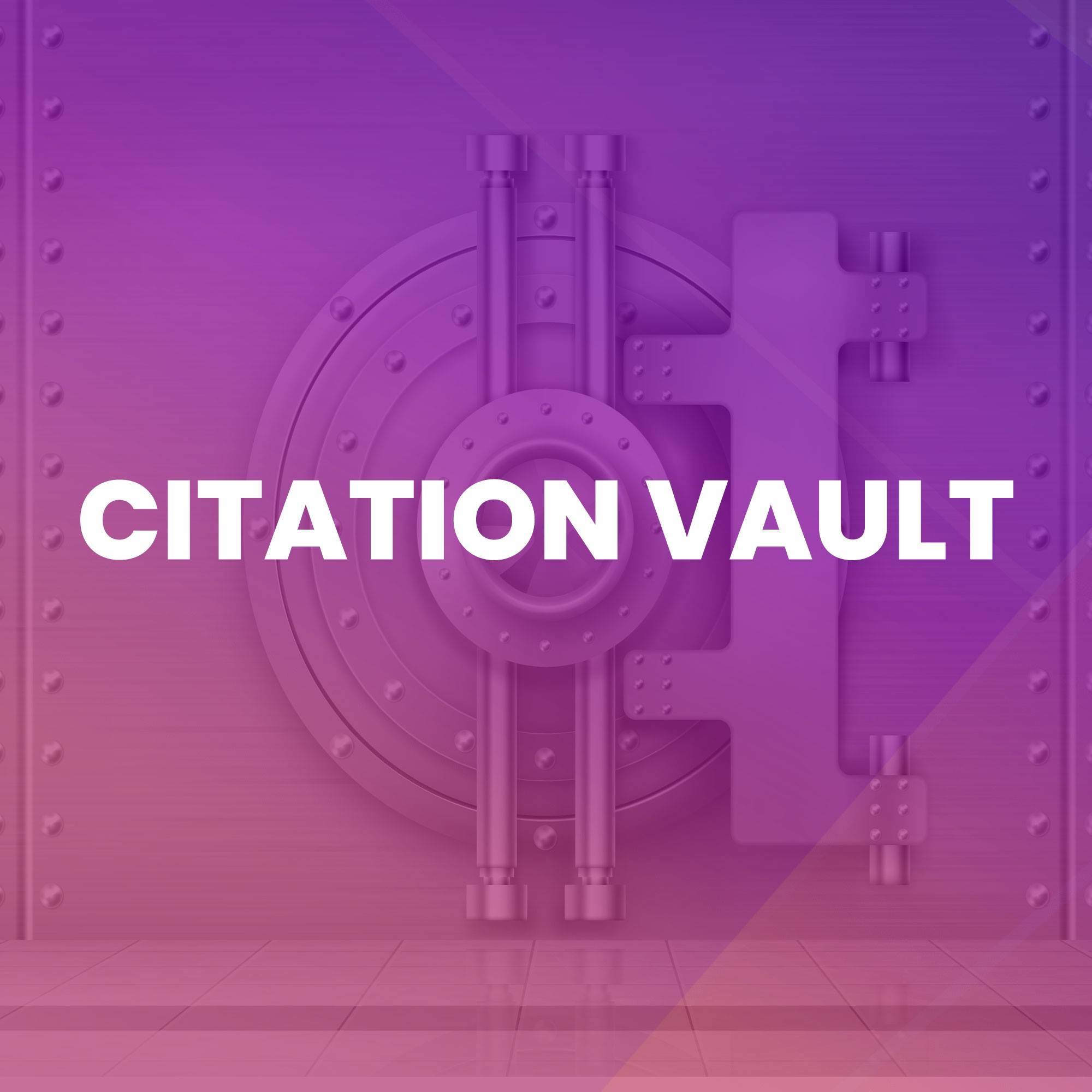 Citation Vault transforms business citations with a comprehensive suite of features, including 300 structured local citations featuring do-follow backlinks, GMB map embeds, YouTube video integrations, and social media links. This innovative solution ensures accuracy, customization, and exceptional results, making it the go-to choice for elevating local SEO strategies. With competitive pricing and a risk-free trial, businesses can experience its transformative impact firsthand.
Citation Vault revolutionizes business citations with 300 structured local citations, do-follow backlinks, GMB map integration, YouTube videos, and social media links. It's the top choice for local SEO, offering accuracy and customization at competitive prices with a risk-free trial.
Introducing an Evolution in Business Citations: Citation Vault, the global frontrunner in local citation services, is excited to unveil its revolutionary solution that is reshaping the approach businesses take towards citations. Boasting an extensive array of features and exceptional outcomes, Citation Vault has emerged as the definitive platform for businesses worldwide, surpassing standard SEO local citations.
In the competitive realm of local SEO, enterprises require a robust tool to establish a commanding online footprint and captivate local clientele. This is where Citation Vault truly excels. With its unparalleled features and remarkable performance, businesses can now effortlessly manage their local citations, whether they're individual enterprises or marketing agencies striving to put their clients on the map.
A primary advantage of Citation Vault lies in its offer of 300 meticulously curated structured local citations, delivering unmatched exposure across diverse online directories. These citations come complete with do-follow backlinks originating from distinct IPs, integrated GMB maps, embedded YouTube videos, links to social media profiles, and seamless JSON Schema integration. Leveraging these capabilities, businesses can amplify their visibility and channel more organic traffic towards their websites, equipping them to outshine the competition.
When pitted against other prominent directory services such as Yext, DashClicks, and SignUp, the distinctions become glaringly evident. While these platforms might manage a limited number of profiles on GPS/map websites, they often fall short in providing powerful local citations compared to the comprehensive offerings of Citation Vault. Furthermore, many of these services provide no-follow links on unrelated pages, diluting the potency of their citations. On top of that, their pricing structures can vary from $30 to $500 annually, rendering them less cost-effective in contrast to Citation Vault's competitive and adaptable pricing model.
Citation Vault empowers businesses, irrespective of size, to surmount the hurdles of duplicate content suppression through its distinctive approach. With a rich repository of 300 distinct business descriptions at hand, enterprises can swiftly populate their citations in a mere 5-10 minutes, utilizing a singular user-friendly form. This ensures each citation maintains its distinctiveness, steering clear of any negative ramifications tied to replicated content.
Precision is another pivotal facet of SEO local citations, and this is where Citation Vault stands tall. The platform guarantees a flawless 100% accuracy in NAP (Name, Address, Phone Number), quashing any irregularities that could mar a business's online repute. In addition, Citation Vault empowers businesses to personalize their URL structures, incorporating crucial elements like GMB category, YouTube video embeddings, and Google reviews. These components synergize to create an all-encompassing and captivating citation profile that sets itself apart from the competition.
Jennifer Braudway, a managing partner of Citation Vault, remarked, "Citation Vault takes pride in offering businesses a game-changing solution for their local citation requirements. We definitely understand the significance of building a potent online presence in today's digital landscape, and our platform is meticulously crafted to equip businesses with the tools and features requisite for achieving remarkable outcomes. With our unprecedented offering of 300 structured local citations and an array of potent features, we stand confident that Citation Vault reigns as the ultimate choice for enterprises seeking to elevate their local SEO strategies."
To demonstrate the prowess of Citation Vault and assist businesses in unlocking their full potential, the platform extends a risk-free 14-day trial. This empowers enterprises to directly experience the impact of harnessing a comprehensive and efficacious local citation service.
For further insights into Citation Vault and to embark on harnessing the potency of local citations, kindly visit their website at https://citationvault.com/
About Citation Vault: 
Citation Vault stands as a preeminent provider of local citation services, dedicated to aiding businesses in fortifying their online presence and enhancing their local search rankings across all fronts. Armed with pioneering features, including an arsenal of 300 structured local citations, do-follow backlinks, integrated GMB maps, embedded YouTube videos, social media profile links, and seamless JSON Schema integration, Citation Vault stands as a trailblazer in the industry. With a steadfast commitment to precision, personalization, and outstanding results, Citation Vault empowers businesses worldwide to attain unparalleled triumph in the domain of local SEO.
Media Contact
Company Name: Citation Vault
Contact Person: Jennifer and Andy Braudway
Email: Send Email
Phone: 713-808-1654
Address:7331 Emerald Glade Lane
City: Humble
State: TX
Country: United States
Website: citationvault.com/