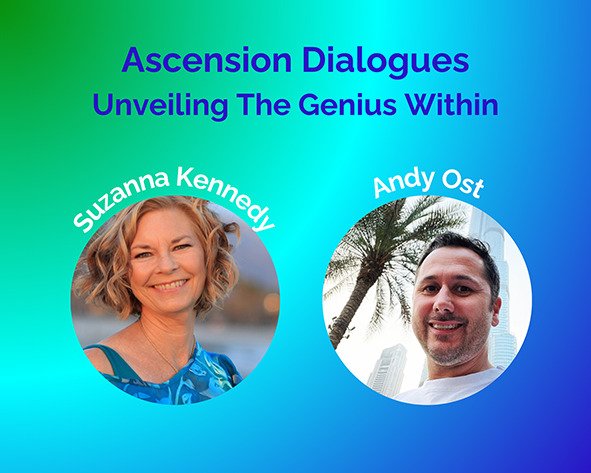 On August 24th, Suzanna Kennedy, the pioneering ascension coach behind Reality Crafting 5.0, and Andy Ost, the award-winning singer-songwriter and comedian, successfully conducted their trailblazing virtual event, "Ascension Dialogues: Unlock the Genius of Your DNA." The exclusive online gathering captivated attendees, exploring how to unlock the untapped genius hidden within our DNA while providing clarity on the transformative Emotional Mental Detox program. Andy has been a student of Suzanna Kennedy and shared his benefits from her ascension coaching process that has been celebrated worldwide for over fifteen years.
During the event, Suzanna Kennedy also revealed her latest cutting-edge product: Sacred Union Reprogramming. This innovative offering promises to illuminate your DNA to fully embody your creative genius, driving home the significance of the topics covered during the Ascension Dialogues. The product is now available on her official website, https://www.suzannakennedy.com/SUR.
Highlights of the Ascension Dialogues included:
In-depth analysis on the untapped potential of human DNA, guided by Suzanna Kennedy's expertise in ascension coaching.
Enlightening dialogues that shed light on the synergistic relationship between emotional mental detoxification and DNA activation.
A question-and-answer session that answered the most pressing questions attendees had about the Emotional Mental Detox program.
"From start to finish, Ascension Dialogues was more than an event; it was a life-changing experience for many," said Suzanna Kennedy. "We're thrilled by the positive response and even more excited to introduce people to the next step on their journey, Sacred Union Reprogramming."
Video Link: https://www.youtube.com/embed/NiUOQgwbxI8
For those who missed this landmark event, stay tuned for future collaborative programs between Suzanna Kennedy and Andy Ost. In the meantime, to explore or purchase Sacred Union Reprogramming, visit https://www.suzannakennedy.com/SUR.
About Suzanna Kennedy
Suzanna Kennedy is a highly regarded ascension coach and the visionary developer of Reality Crafting 5.0. Her transformative programs have impacted thousands across the globe, leading them toward a life of spiritual fulfillment and personal well-being.
About Andy Ost
Andy Ost is a comedian and an award-winning singer-songwriter known for his unique blend of soulful melodies and humor. He has been awarded the German Rock and Pop Prize 12 times and continues to inspire audiences through his music and storytelling.