Brisbane, QLD - March 23, 2022 - Finding a reputable business specialising in home renovations can be difficult and often time consuming. AQWA Constructions in Brisbane provides comprehensive residential renovation design and construction services that run smoothly with expert planning taking the pain out of home renovations. At AQWA It's important that customers feel comfortable, to express ideas freely and have a fantastic renovation experience. We are honoured to present the award of Best Home Renovations in Brisbane to AQWA Constructions.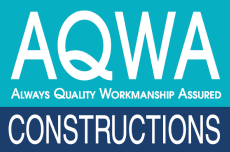 AQWA Constructions is a high quality, experienced renovation company that specialises in quality and affordable home renovations. The renovation process is easy, free of risks, delays and unnecessary expenses with a trusted team by your side through the entire process. If the renovation plan is internal or external AQWA Constructions can get the job done with an experienced team of builders from the first idea, through consultation & design, the planning of the renovation and lastly starting the construction of your renovation. Feel at ease knowing the experienced team at AQWA Constructions can provide a seamless and quality renovation.
The processes and systems at AQWA constructions simplify the home renovation experience, allowing each stage to be carefully planned and managed. "Perfect, Highly recommended for major home renovations, The whole process was so professional from the first meeting until the project was finished" Are just some of the amazing comments found on different platforms. It's very clear that AQWA Constructions provide the best home renovations and deliver exceptional service to its clients.
The Quality Business Awards honours a business that has an average quality score of 95% or more over the previous year. To be in the running for the award the business must have consistently great customer reviews from more than three various platforms. Businesses that have sterling reputations and records over several years with very few complaints will score extremely highly. A business that answers to the majority of clients' comments and reviews will also score great. A Quality Business Award is the seal of quality and acknowledges a true commitment to delivering a quality service and exceptional customer satisfaction.
For more information on this: AQWA Constructions - https://www.aqwaconstructions.com.au/
Quality Business Awards Australia - https://www.qualitybusinessawards.com.au/
Media Contact
Company Name: AQWA Constructions
Contact Person: Media Relations
Email: Send Email
Phone: 0414 234 695
Country: Australia
Website: https://www.aqwaconstructions.com.au/