RealMax Qian Has Passed the Foxconn FOV Test and Will Be Launched on September 15 on Kickstarter.
New York, USA - September 14, 2020 - RealMax is a trustworthy and reliable name in the AR/ VR industry. The company has earned a reputed position in the AR market through its state of the art and unique products. The latest version of RealMax Qian is a worthy and sophisticated addition to the list of RealMax entertainment that offers a grand 119.5° FOV authenticated by Foxconn. RealMax Qian has passed the Foxconn FOV test which speaks louder about the credibility and user-friendliness of the product.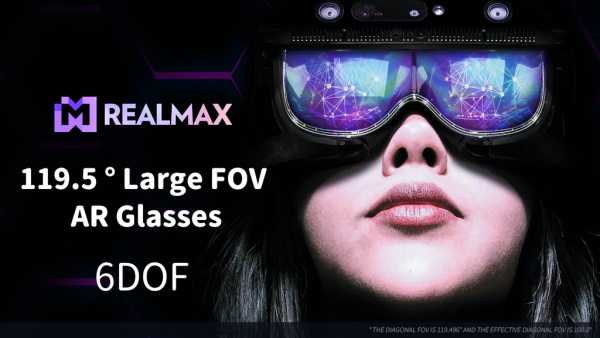 The RealMax Qian of the latest meta has been incorporated with the newest ideas and features that make one's daily AR entertainment a wholesome and amazing experience. Its ultra-large FOV of 119.5° is greatly improved based on the previous meta. Hence, it allows users to view and interact with a fusion of 3D digital content and reality. With its multiple innovative and eagerly desired features like 6DOF tracking, AR-VR convertibility, 3 DOF controller, and open source community, users can interact with it by hand and voice. Along with hand gesture control, easy switching between AR and VR mode using a clip-on shade, and precise IMU and tracking and positioning function, RealMax Qian will provide users with a total immersed experience, similar to the rumored Apple Glasses.
An international team of renowned engineers and scientists has integrated skills and innovations into the structure of the recent RealMax Qian. The team has already led Augmented Reality R&D for the last decade. RealMax Qian is a device that will precisely fit the user's face and head because the latest product is a 'one size fits all' situation. A 6000 mAh detachable quick and powerful charge battery can support 5-hour use and 100-hour standby. A number of utilities like WIFI, BT, Internet, GPS, AI, and voice image recognition can be used by users to control appliances. Users can also switch to VR mode instantly and can play any VR games on stream via wireless streaming or NOLO module. A variety of games, ranging from sports to music, are available to boost the curiosity of the player. With its powerful user-immersive experience, RealMax Qian can also be applied to medical, educational, and industrial scenarios, along with customized applications for different uses.
Its lightweight structure, ultra-comfortable nature, and unique compatibility with all prescription eyeglasses will further boost its online reputation once it hits the Kickstarter on September 15, 2020, at 9 am EDT.
About Us: 
Established in 2003, RealMax is one of the leading companies in the domain of Augmented Reality. By combining software, hardware, content, and services, RealMax aims to enhance human understanding by making AR accessible to everyone.
If you have any queries regarding RealMax Qian please feel free to contact our Media Manager. For more detailed information about RealMax Qian, please visit https://realmax.myshoplaza.com
Media Contact
Company Name: RealMax
Contact Person: Media Manager
Email: Send Email
Phone: +8618602130199
Country: China
Website: https://realmax.myshoplaza.com