Can the China ETF Rally Last?
July 08, 2020 at 18:17 PM EDT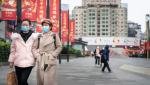 China country-specific ETFs are caught up in a strong rally, but some warn of the dangers of a sentiment fueled push that ignores fundamentals. The iShares MSCI China ETF (NASDAQ: MCHI), the largest China ETF by assets, jumped 9.7% over the past week while the Xtrackers Harvest CSI 300 China...