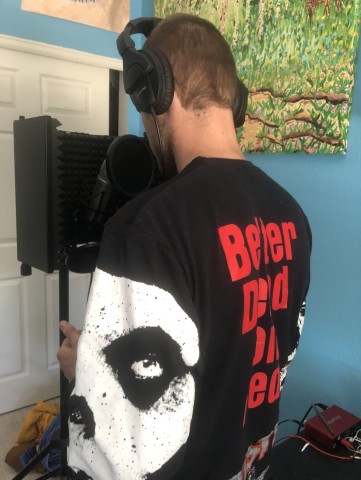 From Colorado USA, Broken Boy is an artist who has seen a lot at the young age of 18 years. But even getting into the dark world of drugs didn't make him love music any less. He was willing to do better in life for his loved ones so he decided to go to rehab and came back sober and ready to start a new life. During that period of a year and a half, while he was away, he faced a lot of struggle, but all of that disappeared when he met his special someone after returning from rehab. His latest album "Broken Boy" is a way of expressing everything he went through all this time.
Broken Boy's latest album "Broken Boy" was released on June 4, 2020, and is an exhilarating collection of 12 amazing songs, including- Broadway, Everyday Another Struggle, Fallen Star, Clean Cut Incision, Gold Heart and Menthol Kisses, and 7 others. Each song is a masterpiece on its own, crafted by the artist to tell a different story. This album is not just a collection of songs, but a compilation of the artist's deep emotions that he has been feeling over the past few years. The album will make you feel the rhythm and lyrics of each song, piercing right through your heart.
"In this last project, I tried to show my diversity of different styles within the rap genre. I think my music falls under the umbrella of underground rap. Some of it has some Punk or Grunge Themes as well as love songs and emotional rap as well as some classic rap you turn up to", says Broken Boy, telling about his music style.
Broken Boy's musical journey started when he was 14 years old and has been full of topsy-turvy turns. He started recording songs with his friend, who introduced him to the idea of rap music, first with a poor-quality microphone. just trying to make something that resembled something that sounded good. As the mother turned into years rap became a passion and an outlet from the pain and suffering, I came to face and it turned from something I wanted to try to something I felt I had to do. I went from a kid with a dream to having a humble in-home studio. Rap has always been the dream now I speak into existence with every bar. This is how far Broken Boy has come with his music, all because of his passion and hard work.
Listen to the album "Broken Boy" now on Spotify.com
Instagram: @brokenboyisdead
Media Contact
Company Name: Alex Music
Contact Person: Alex
Email: Send Email
Country: United States
Website: solo.to/brokenboy