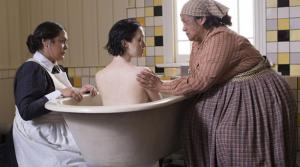 A scene from WHITE LIES, directed by Dana Rotberg.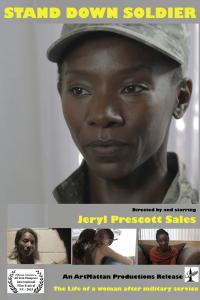 The life of women after military service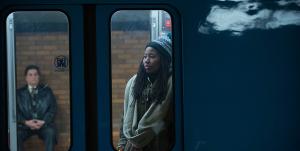 "Ninth Floor" - US Premiere! - info at www.NYADIFF.org
Women behind the camera are the focus of this month's ADIFF film program to be held at Teachers College, Columbia University from March 25 to 27, 2016.
Thematically, "White Lies" is essential cinema, unafraid to delve into female issues even contemporary societies grapple with.
— Tomris Laffly, Film Journal International
NEW YORK, NEW YORK, USA, March 18, 2016 /
EINPresswire.com
/ -- The selection of ADIFF's CELEBRATING WOMEN'S MONTH program is comprised of ten films from Senegal, New Zealand, Cape Verde, Mozambique, Canada, USA and Brazil.
Opening the series is a free program celebrating the anniversary of Senegalese pioneer filmmaker Khady Sylla who was born on March 27, 1963. Khady Sylla's work still resonates today. She belongs to a group of African female directors whose body of work has tremendously enriched the production of African films in the past 20-30 years.
Highlights of the program include:
*The US Premiere screening of Mina Shum's film "
Ninth Floor
" on the Sir George Williams University riot that took place in 1969. "Ninth Floor" is a film on a little known chapter in the history of race relations in Montreal, Canada and the struggle against institutional racism in institutions of Higher Education.
*The screening of
White Lies
by Dana Rotberg and White Like the Moon by Marina Gonzales Palmier, two films that received their US theatrical release two weeks ago to great popular and critical acclaim. White lies is a women-centered drama set in the Maori community in colonial times New Zealand that explores issues of identity, of self-definition, and looks at the social attitudes towards women. White Like the Moon is about a Mexican-American girl struggles to keep her identity when her mother forces her to bleach her skin.
* The drama
Stand Down Soldier
by Jeryl Prescott Sales, tells the story of Sergeant Stacy Armstrong who returns home from three deployments suffering with post-traumatic stress disorder (PTSD). The film explores some of the issues many returning soldiers confront in their civil life including mental health issues, loneliness, and drug addiction for self-medication. A panel discussion regarding mental health, women and communities of color will follow the film screening.
Other films in the program are Sexy Money by Karin Junger about poor Nigerian women who were prostitutes in Europe and try to make a life for themselves after they are sent back home; Cape Verde, My Love by Ana Lucia Ramos Lisboa a drama that takes a critical look at the dynamic between Cape Verdean men and women; Nelio's Story that depicts the life of an orphan boy in Mozambique who escapes the civil war; and Abdias Do Nascimento by Aida Marques, about the Afro-Brazilian scholar, writer, activist and politician who was a significant figure in Brazil's Black Movement.
For more information about the Women's Month program, to receive screeners and high resolution images please contact Diarah N'Daw-Spech at (212) 864-1760/ fax (212) 316-6020 or e-mail
pr@nyadiff.org.
Festival web site:
www.nyadiff.org
.
The African Diaspora International Film Festival is a 501(c)(3) not for profit organization. Support for ADIFF come from ArtMattan Productions; the Office of the Vice President for Diversity and Community Affairs, Teachers College, Columbia University; the New York City Council in the Arts, WBAI and Public funds from the New York State Council on the Arts, a state agency.
ADIFF'S WOMEN'S MONTH CELEBRATION AT A GLANCE
WHERE
Teachers College, Columbia University
525 West 120th Street – 263 Macy
Train 1 to 116th Street
Free street parking Saturday and Sunday
WHEN
Friday, March 25 to Sunday, March 27, 2016
SCHEDULE
Friday, March 25
6:30pm - Films by Senegalese Filmmaker, Khady Sylla
Colobane Express & The Silent Monologue
Saturday, March 26
1pm - Sexy Money
2:45pm - Cape Verde, My Love
4:30pm - Stand Down Soldier + Panel Discussion
7:30pm - Ninth Floor
Sunday, March 27
2pm - Nelio's Story
4pm - Stories of Colorism
6:30pm - Abdias Do Nascimento
TICKET PRICES
Opening Program Friday, March 25 FREE
Saturday and Sunday screenings: $12/$10
Weekend Pass: $35
CONTACT
Tel: (212) 864-1760
http://www.NYADIFF.org
Diarah N'Daw-Spech
African Diaspora International Film Festival
2128641760
email us here